Cioppino - Italian Fish Stew Recipe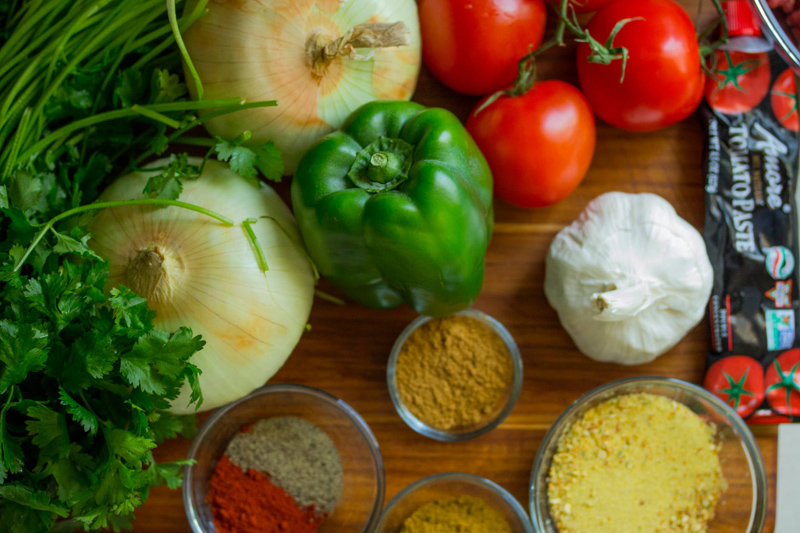 Cioppino
is an Italian-American seafood dish, similar to the Italian fish stew 
Zuppa di Pesce
which can be found with many regional variations.
Cioppino was originally created in California, by the Italian Achille Paladini, who arrived in San Francisco in the mid-1800s from the Italian seaport of Ancona and became a renowned fish wholesaler.  As the story goes, he originally came up with the idea of making a stew to utilize the leftovers from the 
fish boats 
day's catch. Even
tually the stew became a popular dish served in the many Italian restaurants that started business in San Francisco in the late 1800s.
The name Cioppino however comes from 
ciuppin
, a word in the dialect of another Italian seaport, Genoa, and it literally means "chopped" referring to the fact that all the leftover fish is chopped up in pieces before to go in the pot. Moreover, 
Ciuppin
 is still a classic fish soup of Genoa, with a similar recipe to Cioppino, but with less tomato.
The traditional San Francisco Cioppino recipe calls for a mix of fish and other seafood including crab, shrimps, scallops, squid, clams and mussels, cooked with fresh tomatoes, herbs and white wine, and finally served with slices of toasted bread, typically sourdough.
In many restaurants, patrons are provided with utensils to crack open the crab and large bibs to avoid spoiling of tomato sauce on clothes. A version of Cioppino without crab and shells, known as the Lazy Man's Cioppino, is also quite popular and equally flavorful.
In this version I simply omitted the crab but used in shell mussels, clams and shrimps; these were cleaned and deveined but the heads were not removed, for extra flavor and taste.
Ingredients and Instructions (serves 6-8):


1/2 cup of olive oil


2 cups of crushed tomato


1 1/2 cups of clam juice or fish stock


1 cup of dry white wine


1 cup of water


1 onion, chopped


2 celery stalks, chopped


2 garlic cloves, chopped


1/3 cup of chopped Italian parsley


1 bay leaf


1 tsp dried oregano


2 pounds of fresh fish (halibut, haddock, perch), deboned and cut into pieces


12 clams in the shell, scrubbed clean


12 mussels in the shell, scrubbed clean


1 pound of shrimps, cleaned and deveined but heads on


1/2 pound of scallops
Saute the onion, celery and garlic over medium-low heat in a large pot; cook slowly, stirring occasionally until the onion becomes translucent.


Add the crushed tomatoes to the pot then the clam juice, wine, bay leaf, oregano, water and mix well. Cover and simmer gently for about 30 minutes.


Add the fish and seafood and the chopped parsley, bring to a boil, after which lower the heat, cover and let simmer for about 10 minutes.


Add salt and pepper to taste and serve the fish stew into individual bowls and serve with warm, sourdough bread.


You Should Also Read:
Entrees: Seafood
Baked Parmesan Crusted Fish Recipe
Sole Florentine Style Recipe


Related Articles
Editor's Picks Articles
Top Ten Articles
Previous Features
Site Map





Content copyright © 2023 by Cinzia Aversa. All rights reserved.
This content was written by Cinzia Aversa. If you wish to use this content in any manner, you need written permission. Contact Cinzia Aversa for details.