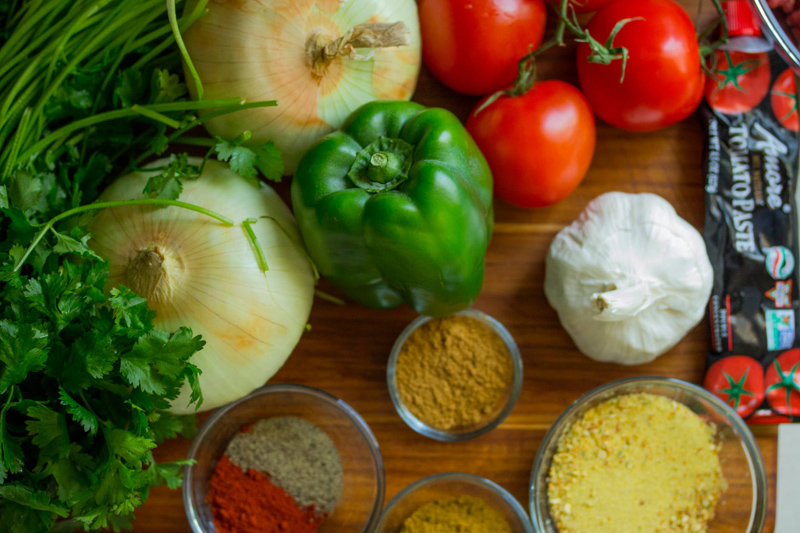 Beef and Pork Italian recipes. In Italy the Secondo Piatto is the second course of the meal, an entree dish of red meat, poultry, game or fish cooked in a variety of styles.
Arrosto - Italian Pot Roast Recipe


Arrosto di carne, Italian for pot roast, can be prepared also on the stove top using a large pot or a Dutch oven.
Arrosto di Maiale -- Pork Loin Roast Recipe


In this pork roast recipe the use of fresh herbs and white wine add great flavor and aroma.
Beef San Marco Casserole Recipe


This beef dish is delicious and can be easily adapted for your slow cooker.
Bollito Misto - Mixed Boiled Meats Recipe


This meal of vegetables and various meats is made from chicken, beef, and sausage simmered together and usually served with green sauce.
Braciole, Meat Rolls & Involtini Recipe


Braciole or beef rolls are a traditional Italian-American dish. In Italy, however, the recipe can be quite different. Find out why.
Cotolette alla Milanese - Veal Chops Milanese Recipe


This veal dish is a staple in northern Italy. It is one of my sons favorite home cooked dishes.
Grilled Italian Chicken With Basil Recipe


A chicken dish that bursts with the flavor of basil and pepper, fresh from your grill. A great low carb meal to serve family and friends.
Grilled Italian Hamburgers Recipe


These burgers bring a fresh flavor to your cookouts.
Italian Beef and Rice Casserole Recipe


If you're racing against time you can create a healthy and quick meal with this recipe. Easy-to-make doesn't mean fattening or flavorless.
Italian Beef and Vegetables Stew Recipe


Beef and vegetables stew in Italian is called "stufato di manzo con verdure" and it is an easy way to prepare a great dinner with a single dish recipe that anyone in the family will enjoy. It is also a great way to get the kids to eat their vegetables.
Italian Meat Loaf Recipes


These recipes are tasty, but it also hold together well. No falling bits of meatloaf!
Italian Pork Chops with Fresh Herbs


Did you know that chops in Italy are called braciole? This Italian pork chops recipe will tell you why.
Italian Pot Roast Recipe


Ahh, comfort food. Try this great Italian variation on an classic.
Italian Tri Tip Recipe


Tri tip is a tasty piece of beef, perfect for grilling Italian style.
Lentils with Italian Sausage Recipe


A traditional New Year´s Day dish in some regions of Italy.
Meat Rolls Sicilian Style Recipe


Meat rolls or "involtini di carne" are a classic Italian dish and can be prepared in different ways. Find here the recipe for Meat Rolls Sicilian Style.
Ossobuco alla Milanese - Veal Ossobuco Recipe


Ossobuco, or Osso Buco, literally "pierced bone", is a seriously flavorsome dish from Milan, consisting of veal shank pieces browned in butter, moistened with white wine and finally cooked in a light tomato sauce.
Pizzaiola Cutlets Recipe


Carne alla Pizzaiola, or Cutlets Pizzaiola Style, is a classic and simple Italian recipe.
Polpette - Italian Meatballs Recipe


Use this recipe for your meatballs and spaghetti night or as main entrée with a side of vegetables.
Pork Scaloppine with Marsala Recipe


Scaloppine di Maiale al Marsala, or Pork Scaloppine with Marsala, is a great Italian recipe, very popular in Sicily, where Marsala wine comes from.
Scaloppine with Prosciutto and Fontina Cheese


This Scaloppine recipe with Italian Prosciutto and Fontina cheese is super easy. An all Italian entree recipe, tasty and full of flavor. 
Scaloppine with Wine and Mushrooms Recipe


Scaloppine with white wine and mushrooms sauce is another classic Italian recipe. Pair with mashed potatoes and some greens and you are all set for a great dinner.
Veal Madeira Recipe


This is a great dish that features the slightly sweet flavor of Madeira wine.
Vitello Tonnato Recipe


Vitello Tonnato, sliced veal served chilled in a creamy tuna and capers sauce, is a classic summer dish in Italy. Great Italian recipe for an antipasto or entree.
Zampone with Lentils Recipe


Zampone or cotechino served with lentils is what most Italians eat for dinner at New Year's Eve. Zampone is a stuffed pig's foot which has been deboned and filled with ground pork meat and rind mixed with spices, while cotechino is a large size sausage filled with the same type of mixture.
Editor's Picks Articles
Top Ten Articles
Previous Features
Site Map
Content copyright © 2018 by . All rights reserved.
This content was written by . If you wish to use this content in any manner, you need written permission.
Contact Cinzia Aversa for details.